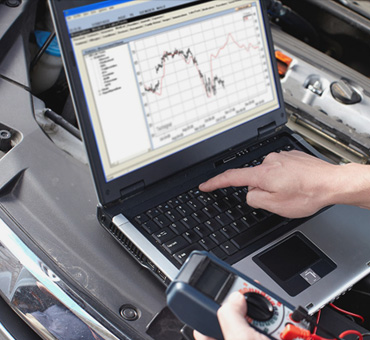 Diagnostics
If you have an engine management light, air bag light, abs light or any other warning light on your dash you should get this checked as soon as possible. These early warnings are their to let you know your car is not working correctly and should be checked. All too often we hear of people ignoring these lights.
Not only can these sometimes be a safety concern but your car will also fail its MOT. Getting these checked and fixed when the fault occurs can often be cheaper than leaving it and ignoring it until it causes further damage or because it needs to be fixed to pass an MOT.
Our team have an array of diagnostic tools at our disposal which allow us to talk to all the control modules in your car and see live data. That along with our experience we can quickly identify and fix faults on your vehicle.
For vehicles with running faults which are difficult to diagnose our sister company in house also have a rolling road so we can simulate driving conditions which you experience the fault with and they have additional data logging which will graph and show where the fault occurs and help pin point the issue. We are the only garage in Ellesmere Port to have access to our own rolling road.
If your engine management light or any other warning light is on give us a call on 0151 2050967 to book in.